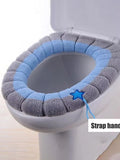 Features:
Can fit most toilet seats, perfect for your bathroom. Warm, breathable, skin-friendly and comfortable, say goodbye to cold toilet seat covers.
Made of high-quality polyester material, soft, warm, durable and comfortable to the touch. Keep Your Toilet Seat Warm and Upholstered
Designed with a lid-lifting toilet seat handle, which is hygienic and convenient, and avoids direct contact with dirt.
Can fit most toilet seats, perfect for your bathroom.
Machine washable and hand washable, easy to clean, reusable and not easy to fade.
Place the cover with loop on the underside of the toilet seat, pull the cover through the hole, and pull the cover over the toilet seat.
It adds an elegant look to any bathroom. The perfect gift for everyone.
• Thickened Knitted Material :Made with thickened knitted material, this toilet mat is durable and long-lasting.
• Washable and Antifreeze :This toilet mat is washable and antifreeze, making it easy to clean and maintain.
• Universal Fit :With its universal fit, this toilet mat can be used on any standard toilet seat.
• Eco-Friendly Feature :This toilet mat is eco-friendly, making it a great choice for those who want to reduce their environmental impact.
Specification:
Product name: cartoon handle toilet seat
Material: Polyester
Color: stitching 4 colors
By method: mosaic full surround
Color: Grey/blue/pink/Green
Size: 31*31cm
Package included:
1×Toilet seat cushion
NOTED:
It has an insert plastic ring, you can use it to fix the toilet lid, easy and convenient to install, when you want to clean the toilet lid, please remove the insert plastic ring.
Return & Refund Policy
We have a 15-day return policy, which means you have 15 days after receiving your item to request a return.
For more information about our Return & Refund policy, please visit: https://leccio.co/policies/refund-policy
Shipping
We ship to most countries in the world and your package will arrive between 10-20 business days depending on your geographic location and availability of stock.

Other Questions
If you have further questions about this product, please send us a message by clicking on the little icon "Ask us something about this product". The icon is right above "Add to Cart" button.

Recently Viewed Products
Let's take another look!
Winter Warm Toilet Seat Cover