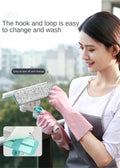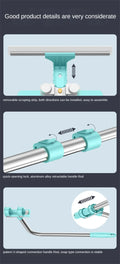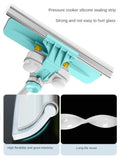 Description:
Product name: high-rise glass scraper
Color: Light green
Material: brand new PP material, stainless steel pipe
Size: 155cm long after extension, 75cm long after contraction
Specifications:
1. Scalable - Reduce back pain and low back pain, easy to wipe high-rise floors.Flexible retraction and separation, with a contraction length of up to 75CM and an extension length of up to 155CM
2. labor-saving -  Levers save effort principle, indoor and convenient cleaning of windows, can be used for changing and washing, is good for changing and washing.
3. Simple installation -  Removable blade, installable in both directions, easy to assemble, quick release lock, aluminum alloy retractable handle.
4. U-shaped special window cleaning - The patented U-shaped connecting rod is firmly connected with a snap fit, and the silicone sealing strip of the pressure cooker is strong, not easy to damage the glass.
5. Wipe dry without leaving any water stains - Use the sponge head together with the cloth cover for streak-free cleaning of windows, mirrors.With no water spills or drips on window sills, frames, carpets and furniture.
Package Included:
1 * Glass scraper
Return & Refund Policy
We have a 15-day return policy, which means you have 15 days after receiving your item to request a return.
For more information about our Return & Refund policy, please visit: https://leccio.co/policies/refund-policy
Shipping
We ship to most countries in the world and your package will arrive between 10-20 business days depending on your geographic location and availability of stock.

Other Questions
If you have further questions about this product, please send us a message by clicking on the little icon "Ask us something about this product". The icon is right above "Add to Cart" button.

Recently Viewed Products
Let's take another look!