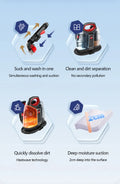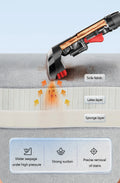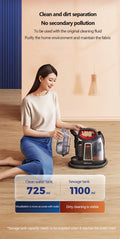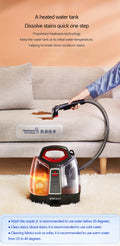 Product parameter
Model: 3698-Z
Power: 330W
Voltage: 220-240V
Function: wet and dry
Cable length: 5m
Size: 39*32.5*16cm
Net weight: 3.86kg

Product parameter
1. Small fabric sofa and carpet cleaning machine, spray and suction integrated cleaning machine, household vacuum cleaner
2. Integrated suction and washing, clean and separate dirt, fast dissolve the dirt Heatwave heat wave technology
3. Deep moisture absorption, go deep into the surface layer 2, spray water and absorb water as a whole to clean, absorb and wash in one step
4. Strong pressure water seepage, low-grind fine dense brush to clean the colleague without damaging the material, clean dirt separation, clean water tank 725ML, sewage tank 1100ml
Suck and wash in one
Simultaneous washing and suction

Clean and dirt separation
No secondary pollution

Quickly dissolve dirt
Heatwave technology

Deep moisture suction
2cm deep into the surface
Pollution is difficult to remove from hiding

Precipitation stains are like icebergs.
After the surface is cleaned,
90% of stains are still hidden in the bottom of the fabric
Deep suction
Water spraying and water suction are integrated and clean

In-depth cleaning of deposited stains and old spots in the fabric
Between back and forth, the washing and suction is done in one step
Moisture Suction Technology
Three-step cleansing and renewal

1 spray
Strong pressure seepage
Press on demand, spray water instantly, spray evenly
2 brush
Low-wear fine brush
Flexible as silk, clean without damaging the material
3 suck
Focus on suction design
Suck stains on the bottom of the fabric
Clean and dirt separation
No secondary pollution

To be used with the original cleaning fluid
Purify the home environment and maintain the fabric
A heated water tank
Dissolve stains quick one step

Proprietary heatwave technology
Keep the water tank at its initial water temperature, helping to break down stubborn stains
● Wash the carpet ,it is recommended to use water below 30 degrees;
● Clean stains, blood stains, it is recommended to use cold water;
● Cleaning fabrics such as sofas, it is recommended to use warm water from 25 to 40 degrees.
Handle every accident with ease

The mat at the door
Old footprints

sofa
Milk stains/crayon marks

Long hair carpet in the living room
Watermelon juice/drink

mattress
Urine stains/milk stains/holidays

Car seat
Coffee/drinks

curtain
Old stains/dust
Get closer
Pet odors go nowhere

Quickly clean pet urine stains, dirty footprints
Relieves odors at home
Small and convenient,It's easy to play from a distance,6.3m large cleaning radius,From the living room to the bedroom, there is no need for frequent interstitial changes
Easy to store,Bag size, does not take up space,Easy to carry away, easy to store
Clean easily and hide in detail.

①Soft plastic switch
Soft touch, waterproof and static-resistant
②Wire hooks
Tangled wire is good to store, wires do not tangle feet
③The hose hook
Around bunching design, save storage space
Product parameters

Product name: bissell fabric cleaning machine
Clean range :Fabric furniture
Rated power : 330w
Noise :65dB
Clean water tank: 725ml
Weight :3.86kg
Return & Refund Policy
We have a 15-day return policy, which means you have 15 days after receiving your item to request a return.
For more information about our Return & Refund policy, please visit: https://leccio.co/policies/refund-policy
Shipping
We ship to most countries in the world and your package will arrive between 10-20 business days depending on your geographic location and availability of stock.

Other Questions
If you have further questions about this product, please send us a message by clicking on the little icon "Ask us something about this product". The icon is right above "Add to Cart" button.

Recently Viewed Products
Let's take another look!