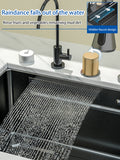 Our Range of Kitchen Sinks Will Provide the Support You Can Have for Your Kitchen. Each Sink is Constructed in Grade to Offer the Most Optimal Performance Including Support for Robust, Hygienic and Also Strong Resistance Against Corrosion. with a Wonderful Modern Design, Let You Fall in Love with the Kitchen and Bring Convenience to the Kitchen. 
Product Parameters:
Product Name: Sink
Product Material: Stainless steel
Dimensions: 60X45CM/68X45CM/75X45CM
Sink Height Size: 22Cm
Manufacturing Industry: Stainless Steel Sheet Integral Stretch Forming
Surface Technology: Soft Oiled Brushed Surface
Product Features: Large Capacity, No Dirt, Vertical Basin
Use: Can Wash Dishes, Fruits and Vegetables.
Product Features: Surface Wire Drawing Treatment, Stainless Steel Texture! Good Stability, Not Only No Glare, But Also Can Withstand Repeated Wear of Porcelain and Tableware, Easy to Clean.
Applicable Ocns: Can Be Used in Hotels, Restaurants, Families, Etc.
Return & Refund Policy
We have a 15-day return policy, which means you have 15 days after receiving your item to request a return.
For more information about our Return & Refund policy, please visit: https://leccio.co/policies/refund-policy
Shipping
We ship to most countries in the world and your package will arrive between 10-20 business days depending on your geographic location and availability of stock.

Other Questions
If you have further questions about this product, please send us a message by clicking on the little icon "Ask us something about this product". The icon is right above "Add to Cart" button.

Recently Viewed Products
Let's take another look!
Nano 304 Stainless Steel Knife Rack Kitchen Sink