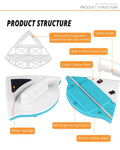 FAST Q&A
1. Is the quality good?
A: Good quality, dare to promise, using ABS engineering plastics, with high impact resistance, high heat resistance, flame retardance. The reinforcement is 3-5 times stronger than general plastic strength.
2. How long can it be used? Will it lose weight?
A: The use of NdFeB and ferrite magnets is stable and can be used for a long time without loss of magnetism.
3. Easy to use? How's the effect?
A: User-friendly design, easy to grab, save time and effort, easy to clean the window. Have video teaching, if you have any questions, you can contact customer service to solve.
4. How to choose the proper size?
A: You can select the appropriate size according to the thickness of the glass to be wiped. The measurement method is as follows:
Glass thickness measurement method
Glass thickness =W Width- X width - Y width 
Return & Refund Policy
We have a 15-day return policy, which means you have 15 days after receiving your item to request a return.
For more information about our Return & Refund policy, please visit: https://leccio.co/policies/refund-policy
Shipping
We ship to most countries in the world and your package will arrive between 10-20 business days depending on your geographic location and availability of stock.

Other Questions
If you have further questions about this product, please send us a message by clicking on the little icon "Ask us something about this product". The icon is right above "Add to Cart" button.

Recently Viewed Products
Let's take another look!
Magnetic Window Cleaner Brush