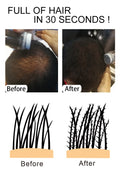 Does your hair start to thin out? Are you starting to get bald? We have a solution for you! Introducing the NATURAL HAIR THICKENER POWDER.
Natural Hair Thickener Powder
 is a HAIR FIBER POWDER that ADDS VOLUME to MAKE HAIR LOOK THICKENED NATURALLY and INSTANLY. It is made if NATURAL HERBS INGREDIENTS and NATURAL FIBER making it SUPER LIGHTWEIGHT and NO THICK FEELING as WIG.
It is SPECIALLY FORMULATED to NATURALLY BLEMD with your THINNING HAIR to ADD VOLUME and have a THICK VISUAL EFFECT.
Natural Hair Thickener Powder
 is SAFE and NON-TOXIC as it has NO CHEMICAL COMPOSITION. It is ODORLESS and DOES NOT IRRITATE the SCALP. It comes in DIFFERENT SHADE of COLORS to PERFECTLY MATCH your REAL HAIR.
It is VERY CONVENIENT to USE just SPRINKLE the POWDER to the hair. It is EASY to CLEAN just WASH it OFF with SHAMPOO and WATER.
Natural Hair Thickener Powder when BLOWN OFF tends to FALL OFF on CLOTHES that is why it is RECOMMENDED NOT TO APPLY TOO MUCH or use a HAIR SPRAY to SET IN. This product also DOES NOT MAKE your HAIR GROW.
Return & Refund Policy
We have a 15-day return policy, which means you have 15 days after receiving your item to request a return.
For more information about our Return & Refund policy, please visit: https://leccio.co/policies/refund-policy
Shipping
We ship to most countries in the world and your package will arrive between 10-20 business days depending on your geographic location and availability of stock.

Other Questions
If you have further questions about this product, please send us a message by clicking on the little icon "Ask us something about this product". The icon is right above "Add to Cart" button.

Recently Viewed Products
Let's take another look!
Keratin Hair Fiber Powder