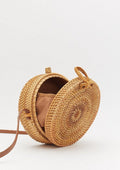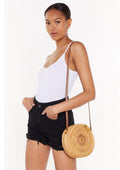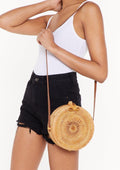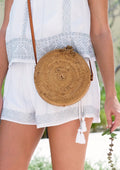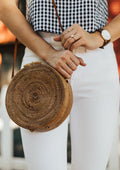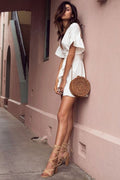 As seen on all the most fashionable bloggers this year! This round rattan bali bag is sure to be the handbag of the year!  Perfect to wear as a crossbody handbag or as a shoulder bag. 
Handmade in Bali from the ata plant (aka rattan) the balinese artisans use the leaf ribs and stalk of the ata plant to weave these beautiful bags. After they have been woven they are dried and smoked in an oven to create their distinctive color and patina.  
Size:
8" x 8"
29 1/2" Strap Length (from top of strap to bottom of handbag)
Return & Refund Policy
We have a 15-day return policy, which means you have 15 days after receiving your item to request a return.
For more information about our Return & Refund policy, please visit: https://leccio.co/policies/refund-policy
Shipping
We ship to most countries in the world and your package will arrive between 10-20 business days depending on your geographic location and availability of stock.

Other Questions
If you have further questions about this product, please send us a message by clicking on the little icon "Ask us something about this product". The icon is right above "Add to Cart" button.

Recently Viewed Products
Let's take another look!