Get the most out of your push-ups and build muscles quicker with this Push-up Training Board! 
Push-up is indeed the greatest and the most convenient bodyweight exercise that you can do, as it strengthens your entire upper body while fully engaging your core and lower body. It is a deceptively simple-looking exercise that many of us would find to be one of the most challenging.
This Push-up Training Board provides a comprehensive training system to increase your whole-body muscle strength and improve muscle definition. The different colours on the board indicate the position for the adjustable handgrips to be placed to train specific sets of muscles - chest, shoulders, back and triceps. Whether you are a beginner seeking to improve your push-up form, or a hardcore veteran looking to take your push-ups to the next level, this Push-up Training Board caters to all skill levels and will make your workouts more fun and effective!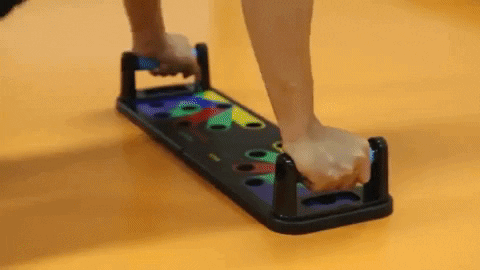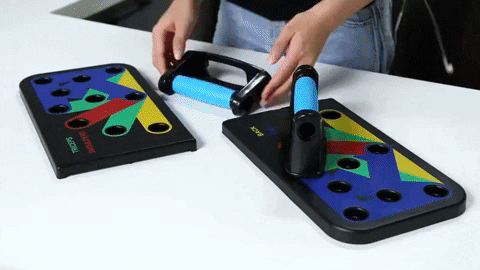 FEATURES

Multiple colours on the board targeting specific muscles - blue for chest, red for shoulders, yellow for back and green for triceps
Adjustable handgrips that can be snapped in multiple positions and angles, ensuring your forms are correct and maximising the effectiveness of your exercises
Foldable and portable. Can be assembled easily. Perfect for work-out at home. Comes in a carry bag for easy transporting and storing 
SPECIFICATIONS
Material: ABS
Dimensions (L x W) : full size: 60.8 x 18.5 cm/ 24 x 7.3 inch; folded: 30.4 x 18.5 cm/ 12 x 7.3 inch
INCLUSIONS

1 Push-up Training Board
1 pair of handgrips
1 carry bag
16 non slip stickers
Return & Refund Policy
We have a 15-day return policy, which means you have 15 days after receiving your item to request a return.
For more information about our Return & Refund policy, please visit: https://leccio.co/policies/refund-policy
Shipping
We ship to most countries in the world and your package will arrive between 10-20 business days depending on your geographic location and availability of stock.

Other Questions
If you have further questions about this product, please send us a message by clicking on the little icon "Ask us something about this product". The icon is right above "Add to Cart" button.

Recently Viewed Products
Let's take another look!