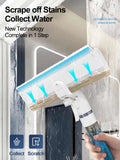 4 in 1 Window Cleaner Window Squeegee with Spray Bottle and Water Collection Function TPR Scraper for Glass Cleaner Window Wiper
Automatically collect water, clean the window is not easy to drip high-tech window wiper.
The spray water collector window cleaner can solve the problem of window cleaning for you.
Say goodbye to the difficulty of cleaning while scraping and dripping water, no need for secondary cleaning.
Scrape and collect water with just one tap
Breaking the conventional "water collecting black technology", strong water absorption and decontamination, the scraping work is completed in one step
Press the water to spray, finely mist, and evenly apply the water
Botella de almacenamiento de agua de gran capacidad de 100 ML, puede agregar detergente / desinfectante, etc., diseño de botella de spray íntima, limpieza rápida en húmedo de ventanas
Return & Refund Policy
We have a 15-day return policy, which means you have 15 days after receiving your item to request a return.
For more information about our Return & Refund policy, please visit: https://leccio.co/policies/refund-policy
Shipping
We ship to most countries in the world and your package will arrive between 10-20 business days depending on your geographic location and availability of stock.

Other Questions
If you have further questions about this product, please send us a message by clicking on the little icon "Ask us something about this product". The icon is right above "Add to Cart" button.

Recently Viewed Products
Let's take another look!