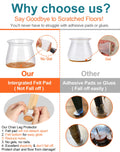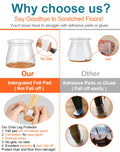 Product Description:
These Silicone Chair Leg Floor Protectors are designed to protect your precious floors and furniture with high-quality silicone leg caps. If you're looking for a simple yet effective solution to prevent scratches and damages caused by furniture legs, these floor protectors are the ideal choice.
Package included 24 pieces Chair Leg Floor Protectors.

Key Features:

【Small Size Chair Leg Protectors】Fit Round leg diameter 20-32mm; Fit Square leg diameter 19-32mm; Fit Odd-shaped leg perimeter 60-99mm. Measure your furniture leg size carefully before ordering. 

【Large Size Chair Leg Protectors】Measure your furniture leg size carefully before ordering. Our Chair Leg Caps are super stretchy, Fit Round leg diameter 33-50mm; Fit Square leg diameter 26-40mm; Fit Odd-shaped leg perimeter 98 -160mm.

【Your floors stay looking beautiful!】Silicone Chair Leg Cover with felt pad, fit over your furniture legs, effectively protecting your hard surface and tile floors from scratching, effectively reduce noise and scratches caused by moving chairs or furniture, creating a quiet and comfortable living environment.

【Felt Bottom doesn't fall off!】Our silicone chair leg covers usen't gel and nails and we use special technology to combine the felt and the silicone into one inseparable piece. You'll never have to struggle with adhesive pads or glues.

【Easy to Use】The Chair Sliders easily stretch to fit over furniture legs. Just slip them over your chair legs, and they'll fit snuggly to stay in place! It can be applied to various shapes of round and square chair feet, such as restaurant chairs, terrace chairs, kitchen chairs,  etc.

Protect Your Floors and Furniture:
These floor protectors offer all-around protection for your floors and furniture, ensuring you no longer worry about scratches or damages when moving furniture. Whether it's hardwood, tile, or laminate flooring, these leg caps provide optimal protection for your furniture.

Whether for home use or commercial spaces, Silicone Chair Leg Floor Protectors are indispensable furniture accessories. Protect your floors and cherish your furniture starting from here!


Return & Refund Policy
We have a 15-day return policy, which means you have 15 days after receiving your item to request a return.
For more information about our Return & Refund policy, please visit: https://leccio.co/policies/refund-policy
Shipping
We ship to most countries in the world and your package will arrive between 10-20 business days depending on your geographic location and availability of stock.

Other Questions
If you have further questions about this product, please send us a message by clicking on the little icon "Ask us something about this product". The icon is right above "Add to Cart" button.

Recently Viewed Products
Let's take another look!
24PCS Chair Table Legs Covers