Keep Your Hands Clean And Free Of Germs! Mopping The Ground And Cleaning Your Mope Has Never Been So Easy!!! With This Brilliant Mop, You Will Leave The Floor Completely Beautiful And Clean. Designed With Super Water Absorption, 360 Degrees Rotation, Extendable Handle, And Easy To Clean Hard-to-reach Areas, This Cleaning Mop Is Amazing!

YOU WON'T SQUEEZE YOUR MOP BY HAND ANYMORE!!
🔥 HANDS-FREE WASHING MOP: With a sleek body and an X-shaped mop head, our creative floor mop features hand-free self-wringing system, which imitates the hand wringing movement, and will keep your hands from dirty water. By simply pushing down the pole, you can wring the water and dirt out in seconds, washing and drying will be completed at the same time.
🔥 360° ROTATING MOP HEAD: The 360° rotatable head along with the X-shaped design makes it easy to maneuver around hard-to-reach areas. The 55" (140 cm) extra-long steel handle in a slim design gives the flat mop easy access to narrow spaces like gaps or slots under the bed or between the sofas. With our hard floor mop, you can enjoy an efficient house cleaning experience. No more bending over to mop ever!
🔥 EASY TO USE & SAVE SPACE: The mop rod and mop pads are detachable for a thorough cleaning. Assembly is easy which only takes you a few minutes. The compact and lightweight self-wringing mop takes up little space in the house, whether it is in the kitchen, bathroom, or garage. The integrated hanging hook in the handle top allows for easy storage.
🔥 3 MICROFIBER MOP REPLACEMENT PADS: Includes 3 soft reusable & washable microfiber mop pads, which absorb water quickly, remove hair and oil stains easily. Use wet for deep cleaning or use dry for removing dust. Perfect for bathroom, kitchen, living room and office. Our versatile mop is suitable for all kinds of smooth surfaces including tiles, wood, hardwood, laminate, concrete, stone floors and glass windows.
🔥 BUILT-IN SCRAPER: Our flat mop also features a built-in multipurpose scraper - by gently scraping the mop pad, you can remove hair and stains with the serrated edge, while the flat edge can squeeze out excess water that has been accumulated on the mop clot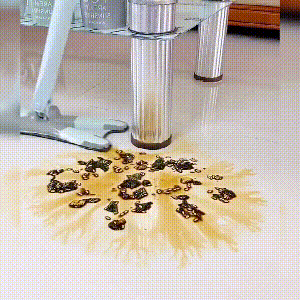 SPECIFICATIONS:


Capacity:

 

301-500ml
Wringing Method:

 

Four-side Wringing Type
Handle Type:

 

Telescopic
Head Shape:

 

X shape
Weight:

 

<2kg
Mop Head Material:

 

PP
Pole Material:

 

STEEL

PACKAGE INCLUDES:

*1 TouchlessMop™ Automatic Wring Out Mop

* 3 Mopheads
Return & Refund Policy
We have a 15-day return policy, which means you have 15 days after receiving your item to request a return.
For more information about our Return & Refund policy, please visit: https://leccio.co/policies/refund-policy
Shipping
We ship to most countries in the world and your package will arrive between 10-20 business days depending on your geographic location and availability of stock.

Other Questions
If you have further questions about this product, please send us a message by clicking on the little icon "Ask us something about this product". The icon is right above "Add to Cart" button.

Recently Viewed Products
Let's take another look!
X-type 360 Degree Floor Mop