💦💦 Are you someone that takes pride in what's on your feet and spends countless dollars on footwear? Why not increase the longevity of your shoes with these waterproof Shoe Protector Booties? Made from 100% Durable, High Elastic PVC Material, these Booties feature a thick rubber sole to ensure non-slip traction and waterproof protection with every use.  This Must Have accessory protects your shoes from mud, rain, sleet and snow!
Shoe Protector Booties are available in a variety of sizes.
FEATURES:
Fashionable and Adjustable Design
Suitable for outdoor activities such as camping, hiking and more
Perfect for Winter and Stormy Weather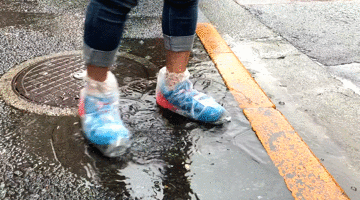 SPECIFICATIONS:
Made of elastic PVC material
Non-slip, waterproof protection of your shoes
Drawstring design
Useful in rains, trekking, snowfall
Size:
Return & Refund Policy
We have a 15-day return policy, which means you have 15 days after receiving your item to request a return.
For more information about our Return & Refund policy, please visit: https://leccio.co/policies/refund-policy
Shipping
We ship to most countries in the world and your package will arrive between 10-20 business days depending on your geographic location and availability of stock. Kindly note that our Singapore, China and Hongkong warehouse will be on holiday on Jan 21st to Jan 27th 2023 as celebration of Lunar New Year. During that period, order processing and shipping from these warehouses may be delayed about 7 working days. Your patience on this will be appreciated.

Other Questions
If you have further questions about this product, please send us a message by clicking on the little icon "Ask us something about this product". The icon is right above "Add to Cart" button.

Recently Viewed Products
Let's take another look!
Waterproof Shoes Boots Cover