The Rust-Oleum NeverWet Shoe and Boot Spray makes your shoes impervious to ketchup, juices, and other weird liquids.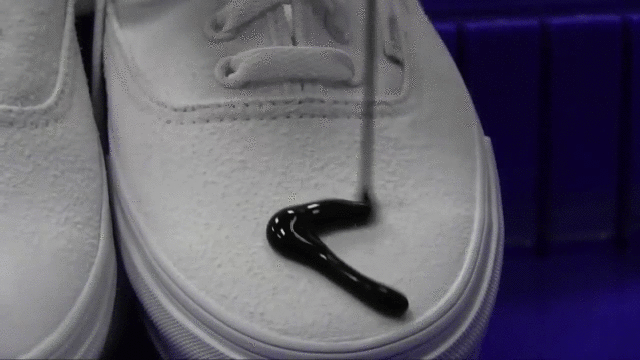 NeverWet's protective layer and topcoat combine to form a surface that has micro scale roughness. When water comes into contact with this surface, small pockets of air become trapped between the water and the coating. This causes the water to naturally roll off the surface and away from the treated object.
"I've used this on my outdoor furniture cushions that are a year old and did not have any water protection coating on them. After 24 hours of applying it, it worked beautifully! Water beads up and does not soak in — even hours later from being splashed by our teenagers!" —Mark W. Smith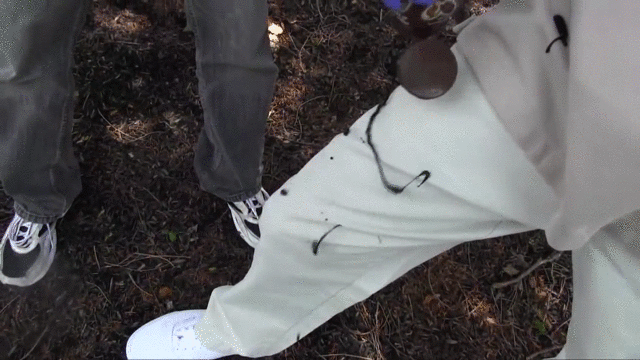 FEATURES:
Rust-Oleum® NeverWetTM is a two-step product system designed to create a moisture repelling barrier on a variety of substrates. It is suitable for use on 

metal, wood, aluminum, galvanized metal, PVC, concrete, masonry, asphalt, vinyl siding, fiberglass, canvas, most plastics

 and more.

NeverWet Multi-Surface Liquid Repelling Treatment is a revolutionary super hydrophobic coating by Rust-Oleum. Easy to apply, two step system creates a moisture repelling barrier on a variety of substrates. Rain, liquids and spills roll right off surfaces keeping them clean and dry.

NeverWet dries to a flat, frosted appearance which may change the color and sheen of the treated object. Test in an inconspicuous area before applying to entire project. NeverWet is

 not recommended for use on clothing or electronics.

Use outdoors or in a well ventilated area such as an open garage. Use when temperature is between 50oF (10oC) and 90oF (32oC) and humidity is below 85% to ensure proper drying.

Avoid spraying in very windy and dusty conditions. Cover surrounding area to protect from spray mist.
NOTE: Product is only sold exclusively for U.S. market
Return & Refund Policy
We have a 15-day return policy, which means you have 15 days after receiving your item to request a return.
For more information about our Return & Refund policy, please visit: https://leccio.co/policies/refund-policy
Shipping
We ship to most countries in the world and your package will arrive between 10-20 business days depending on your geographic location and availability of stock.

Other Questions
If you have further questions about this product, please send us a message by clicking on the little icon "Ask us something about this product". The icon is right above "Add to Cart" button.

Recently Viewed Products
Let's take another look!
Rust-Oleum NeverWet 18oz Shoe and Boot Spray Kit