No tent? No worries! Sleep comfortable in your car with this smart designed back seat air mattress
This air bed has been designed specially for in care and outdoor use with unique honeycomb holes constructed of a 0.4 mm extra thick material which makes it super durable against rough surfaces
FEATURES:
Perfect Fit: Fits in between the rear seats of most cars, SUVs, vans and 4X4s - creating a level, comfortable sleeping surface
Durability and Comfort: Relax and enjoy quality deep sleep all night. The air bed is made of high quality PVC, coated with a 0.6mm soft flocked material
Pillows Included: Comfy inflatable pillows are a great idea if you don't have enough room to pack large bedroom pillows
Quick Inflation and Easy Storage: Included is an electric 12V air pump which connects to your car's cigarette lighter socket, providing quick and easy inflation within only 2 minutes. Easy to carry and store
High Weight Capacity: The inflatable mattress' overall load-bearing capacity is up to 250kg
It's ideal for camping, festivals, surf trips, travel, and adventures.
Durable car SUV equipment for comfortable travel sleeping for kid and parent, or create more room for romantic intimate motion in vehicles
Great for camping, festivals, surf trips, travel, and adventures Inflatable mattress flat, wide and comfortable
Children sleep on the mattress and enjoy relaxed time, get rid of the boring of the journey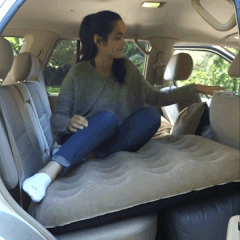 Extra protecting air cushion. Beat setting human functioning, best outdoor air bed and pillow for health care
Unavailable for the rear middle bridge which is particularly high and microminiature cars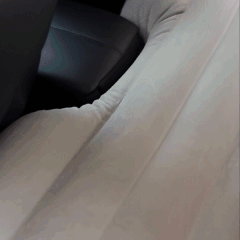 Product Specifications:
Product Dimensions:

 

57 x 35 x 17 inches
Item Weight:

 

10.6 ounces
Shipping Weight:

 

10.6 ounces
Return & Refund Policy
We have a 15-day return policy, which means you have 15 days after receiving your item to request a return.
For more information about our Return & Refund policy, please visit: https://leccio.co/policies/refund-policy
Shipping
We ship to most countries in the world and your package will arrive between 10-20 business days depending on your geographic location and availability of stock. Kindly note that our Singapore, China and Hongkong warehouse will be on holiday on Jan 21st to Jan 27th 2023 as celebration of Lunar New Year. During that period, order processing and shipping from these warehouses may be delayed about 7 working days. Your patience on this will be appreciated.

Other Questions
If you have further questions about this product, please send us a message by clicking on the little icon "Ask us something about this product". The icon is right above "Add to Cart" button.

Recently Viewed Products
Let's take another look!