Fresh herbs are just great. Who wouldn't choose them over dried flakes 100% of the time? Some people have their own garden, live in the right climate, and can grow them all year long. Good for them! Unfortunately not all of us can be so lucky. For the rest of us, the main problem with fresh herbs is the shelf life. You go out and buy a bundle of parsley from the grocery store for that Italian meal, or grab some cilantro for that guacamole and only end up using a fraction of what you paid for. Then you throw the rest in the fridge, forget about it and in a week it goes bad! So, unless you want to eat guac every day of the week (I actually wouldn't mind that) this scenario is bound to happen.
Well, what if you could extend life of that obnoxious amount of herbs you got from the store. Would you? Yes, the answer is yes, you would! The Herb Saver Pods will triple the life of your fresh herbs so you can make your meals taste better with the freshest ingredients possible. The secret is in the design of these unique pods. They have a clear windowed hard shell to protect the herbs from being crushed by other items in the fridge. There is also enough space in the pods for the herbs to breathe and get maximum hydration levels.
The pods are very basic to use. The first thing you need to do is pat dry your cilantro, basil, oregano, parsley or whatever herb you have. Then you place the herbs in the pod and add some fresh water through the tethered filler cap.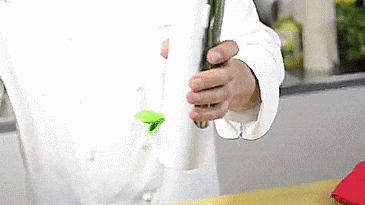 The only thing you need to remember to do going forward is to remove the old water and replace it with fresh water every 3 to 5 days. It's that simple! This process will ensure that your herbs last up to three weeks. That should be more than enough time for you to use up the majority of them in your cooking.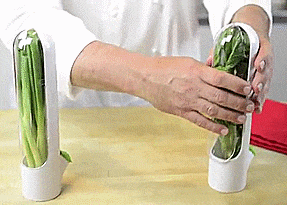 You'll never have to use a damp cloth to try and save your herbs again! Make sure after you cook that next meal to keep your herbs fresh for longer with the Herb Saver!
FEATURES:
| | | |
| --- | --- | --- |
| We invented the 'Herb Saving' category. The Herb Saver will maximize the longevity of your fresh herbs, allowing you to make delicious, healthy meals at home. | Rinse and pat dry your herbs of choice and place them inside the Herb Saver pod. Close the front cover until it snaps into place, so that your herbs are kept firmly in place. You can also use the Herb Saver to store asparagus. | Add fresh water to the reservoir through the removable filler cap. Be sure that the stems are submerged in water for maximum efficacy. For best results, remember to replace the water with fresh every 3-5 days. |
| | | |
| --- | --- | --- |
| During laboratory testing, the Herb Saver was found to prolong the life of herbs up to 3 weeks. No longer are frequent grocery store trips necessary in order to keep a steady supply of fresh herbs for your kitchen. | The BPA free Herb Saver pods feature a transparent window for quickly identifying herbs, and rigid construction keeps delicate leaves protected. | The Herb Saver is 100% dishwasher safe. Simply remove the transparent cover and place both pieces face down in your home dishwasher. |
Return & Refund Policy
We have a 15-day return policy, which means you have 15 days after receiving your item to request a return.
For more information about our Return & Refund policy, please visit: https://leccio.co/policies/refund-policy
Shipping
We ship to most countries in the world and your package will arrive between 10-20 business days depending on your geographic location and availability of stock.

Other Questions
If you have further questions about this product, please send us a message by clicking on the little icon "Ask us something about this product". The icon is right above "Add to Cart" button.

Recently Viewed Products
Let's take another look!