Humans only have two hands, meaning we can only do so many things at one time. Having a baby means that your hands are going to be busy for quite a long time indeed. Just feeding your baby with a bottle means that you can't do other things. Wouldn't it be nice to have those hands free while feeding your baby? You could check your phone, write important notes, whatever you need to do. Well, Podee is here to help. It's a hands-free baby bottle feeder system that uses a long tube that connects from your baby to the bottle.
Since the bottle does not need to be held right up to your babies face, your baby can feed while they're lying down or sitting by themselves. Sure it's great to bond with your child while they feed, but no one says you can't take few minutes away to relax while they feed themselves!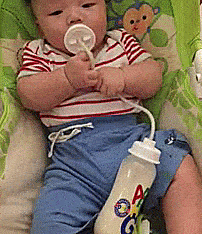 The Podee hands-free baby bottle feeder has a pacifier on one side, and a baby bottle on the other. A tube connects to the two devices and acts as a long straw so that as your baby sucks on the pacifier it will suck the milk from the bottle, allowing them to essentially feed themselves while the bottle is stored below in their stroller, car seat, or between their legs.
FEATURES:
Convenient for Hands-Free Baby Bottle is in an infant carrier, baby swing, car seat, or while being pushed in a stroller.
A simple hands-free starter kit feeds babies in an upright position and is easily washed by hand or with a brush. Nipple designed to mimic breastfeeding for mothers who want to switch between breastfeeding and bottle feeding or for babies who are just making the transition to bottle feeding.
Soft nipple promotes latch on and reduces spills while nursing. Controlled Air Flow – Leak-free venting technology is clinically proven to reduce air build-up associated with colic.
Also proven to reduce gassiness and ear infections.
Approved for babies 3+ months with double vent nipple. Keeps air out to promote a comfortable eating experience. Cap included. Loved by Babies and Mothers Bottles nipples and tubes are made of the highest quality silicone, BPA free, as well as phthalate, PVC, and lead-free.
Return & Refund Policy
We have a 15-day return policy, which means you have 15 days after receiving your item to request a return.
For more information about our Return & Refund policy, please visit: https://leccio.co/policies/refund-policy
Shipping
We ship to most countries in the world and your package will arrive between 10-20 business days depending on your geographic location and availability of stock. Kindly note that our Singapore, China and Hongkong warehouse will be on holiday on Jan 21st to Jan 27th 2023 as celebration of Lunar New Year. During that period, order processing and shipping from these warehouses may be delayed about 7 working days. Your patience on this will be appreciated.

Other Questions
If you have further questions about this product, please send us a message by clicking on the little icon "Ask us something about this product". The icon is right above "Add to Cart" button.

Recently Viewed Products
Let's take another look!
Hands-free Baby Feeding Bottle