OUR 3-IN-1 HAIR DRYER & VOLUMIZER gives every type of hair that silky smooth look and feel that we love in 10 minutes or less.
IT'S NEVER BEEN THIS EASY!
WET → DRY IN MINUTES, NOT HOURS.
FEATURES:
A PLACE WHERE YOU DON'T HAVE TO PUT THE TIME IN TO LOOK GOOD - It shouldn't take hours for your hair to dry. With our 3-IN-1, we integrated Unique Airflow Vents with 3 Heat Settings to quickly dry all types of hair while providing the best protection from Damage, Split Ends, & Burnt Hair.
GO FROM FLAT & VOLUME-LESS HAIR TO THE BOUNCY CURLS YOU LOVE - Our Oval Shaped Brush with the addition of Direct Heat is the perfect combination to give you all the control you need, resulting in the bouncy curls you want.
CURLY & THICK TO SILKY & SMOOTH IN UNDER 10 MINUTES - In the past, it used to take a bunch of hair products and heat tools to go from curly-to-straight. But now, our 3-IN-1 is all you need to get that silky smooth, straight hair shine in under 10 minutes.
AND YOU KNOW WE CAN'T FORGET ABOUT THE BLOWOUTS!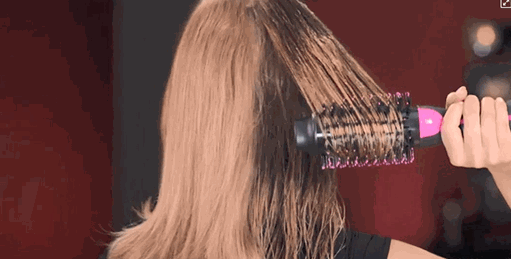 WHY BLOWOUTS MIGHT JUST BE YOUR NEW GO-TO LOOK - The traditional way of a blowout causes your hair to be dried at the wrong time. With heat coming directly from our brush, it dries your hair simultaneously when styling, resulting in a more voluminous blowout naturally, demanding Confidence & Compliments.
SPECIFICATIONS:
• 3 HEAT SETTINGS •
LOW - FOR THIN HAIR :

 

Low Heat + High speed air circulation is the perfect combo to create bouncy volume resulting in a silky smooth blowout.
MIDDLE - FOR CURLY & WAVY HAIR :

 

Medium Heat + Low speed air circulation teams up to prep your hair ready for styling. This allows you to do what you want with your hair, when you want it while keeping it healthy, and you happy.
HIGH - FOR THICK HAIR :

 

 

High Heat + High speed air circulation is for the thickest of thick. You know, the hair that won't work with you no matter what you do to it. Not only will this setting allow you to regain control of your hair, it will do so without damaging it. It's the best of both worlds for us ladies with stubborn hair.
FAQs:
Question: Does this 3-IN-1 dry faster than a traditional blow dryer?
Answer: Regardless of what type of hair you have, our 3-in-1 will dry it 75% faster than the old ways. That means no more holding your arms above your head with a blow dryer in one hand, and a brush in the other just to get your hair to have volume. So you can say goodbye to those sore shoulders! Those definitely won't be missed.
Question: Will this work on short hair?
Answer: Absolutely! Our oval brush design works with all types of hair (short, medium, & long) to provide a silky smooth dry with the flexibility and handling you need to achieve the style & volume you desire.
Question: Will this work on curly hair?
Answer: Yes! Women with curly hair love our brush because of the drying capability that it provides while styling. It makes it easy for curly hair that is hard to manage become soft and bouncy, allowing your hair to work with you so you can look your best by having easier manageability.
Question: Will using this brush damage my hair?
Answer: Your hair will never be damaged from using our brush. The opposite actually happens. Negative ions released from our brush reduce the size of water droplets, which allows your hair to maintain it's natural oils by retaining the perfect amount of moisture resulting in more volume & easier hair manageability in half the time WITHOUT damaging your hair.
Question: What is the voltage of this brush and is it dual voltage for international travel?
Answer: Our brush has different voltages based on the plug type you select for your preferred country to ensure it works properly. It is not dual voltage, so please make sure you select your local plug type when ordering.
Return & Refund Policy
We have a 15-day return policy, which means you have 15 days after receiving your item to request a return.
For more information about our Return & Refund policy, please visit: https://leccio.co/policies/refund-policy
Shipping
We ship to most countries in the world and your package will arrive between 10-20 business days depending on your geographic location and availability of stock.

Other Questions
If you have further questions about this product, please send us a message by clicking on the little icon "Ask us something about this product". The icon is right above "Add to Cart" button.

Recently Viewed Products
Let's take another look!
3-in-1 Multifunctional Hair Dryer & Volumizer